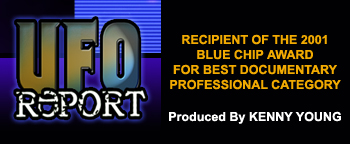 New VHS Video NOW AVAILABLE
UFO REPORT Vol. 4
The latest edition of the video series UFOREPORT is now available, it is a MUST SEE!
The high-quality professionally produced video,containing 4-segments, is 1-hour in length.
Segment ONE isa 35-minute presentation by Kenny Young from the June, 2004
Tri-State MUFON Symposium at The Kenton CountyPublic Library.
Young lectures on the legendary 1949 Norwood,Ohio UFO / Searchlight Incident,
first reported by Leonard Stringfield, and presentsbreaking new information on
this case that is courtesy of a late informantformerly with the
123rd Aircraft Control and Warning Squadron.
Segment TWOis a look at the controversial Centerville, Ohio incident of March, 2004,
containing the dramatic 9-1-1 tapes along withcommentary and analysis.
Segment THREE is an abbreviatedrundown of Midwestern US UFO sightings of
2003 featuring Donnie Blessing and narrated byJohn Stephenson, and
Segment FOUR presents the disturbingMorehead, Kentucky "Screaming Woman"
incident of November, '03. This clip was directedby Donnie Blessing and narrated
by Jeff Shire and contains dramatic reenactmentsof the occurrence, along with
actual 9-1-1 emergency tapes provided by theMorehead, Kentucky police.
For more info, send E-mail to


---
UFO RESEARCH
Return to MAIN PAGE |